Skip to Content
Maintaining Oral Health with Digital X-Rays
Dental X-rays play an essential role in your dental healthcare routine. A dental X-ray can help us detect issues that aren't visible with a routine exam. We can find out the depth of a cavity, issues with the root of teeth, and determine any bone or gum loss. Xpress Dental keeps up with the constant and rapid advancements in the dental world's modern technology. Xpress Dental's digital X-rays offer our McAllen, TX patients a better way to learn about their teeth and bone structure. We use a special computer sensor that allows us to send images directly to our computer systems. Your radiation exposure is reduced by almost 90%.
When Should I Get X-rays?
Dental X-rays should be given regularly so they catch dental issues before becoming more significant problems. X-rays are usually done along with your oral exam once a year. We'll offer treatment options if we find any problematic areas on your dental x-rays, like bone loss or gum loss.
Different Types of X-rays
We perform different types of X-rays when you visit us, including:
Periapical –This allows us to see the root structure of your teeth and overall gum health
Bitewing –This allows us to identify any bone loss or cavities
Clear Results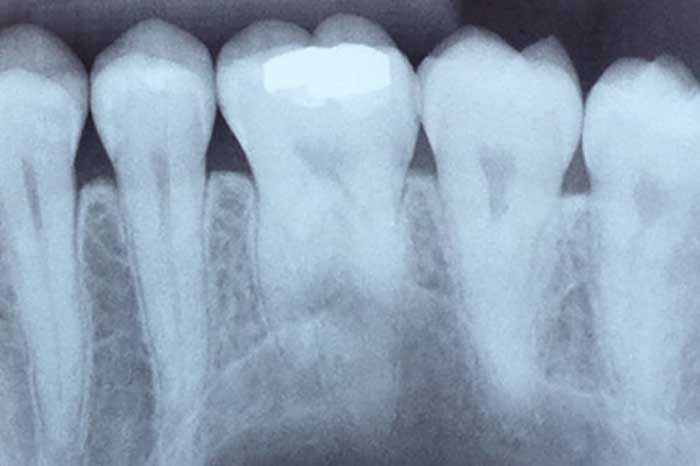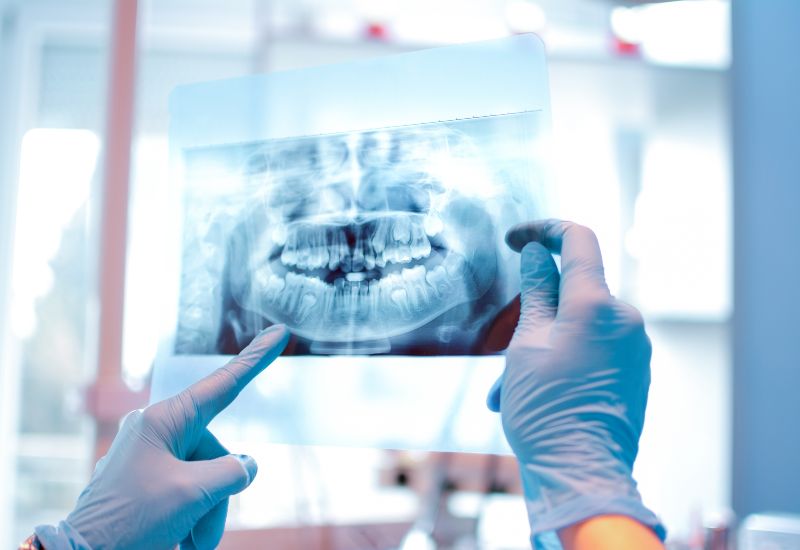 Why Are X-rays Necessary?
Digital X-rays are a necessary tool to prevent dental emergencies before they happen. They are essential to reveal information about your teeth, gums, and bones. X-rays can find things that are not visible during your routine exam. We'll use our digital X-ray information to detect hidden dental issues and create a treatment plan accurately. Dental X-rays may reveal:
Bone loss
Tumors
Abscesses or cysts
Bone loss
Decay between the teeth
Developmental abnormalities
Problematic roots
Safety of X-rays
We ensure your dental X-rays are done as safely as possible. Daily, we are exposed to natural radiation. Traditional dental X-rays only give us about 1/100th of the amount of radiation we're exposed to every day. Digital X-rays produce up to 90% less radiation than traditional X-rays, lowering this exposure level even more. Your image is electronically captured, sent to the computer, and read on the spot. There are no chemicals or waste for the environment from developing your X-rays.
Safety Considerations
We promise our patients that we will lower their radiation exposure levels as much as possible. Though we use digital X-rays, we still use a lead apron to help shield the body from any additional radiation exposure.
How Often Should Dental X-rays Be Taken?
Dental X-rays are recommended when medically and dentally necessary. We recommend digital X-rays for new patients. We also need to review your dental history, dental exam, and disease risk to determine if we need to perform more X-rays. We perform X-rays on average every year to detect new cavities, evaluate bones and roots, and study your overall oral health.
Contact Us for A Digital X-Ray
Dr. John Tan and our Xpress dental team will guide you through your dental X-rays. We ensure comfort as we help maintain your oral health. We'll always use the most updated dental technology to help you reach optimal dental health. Our digital X-rays are quick and painless so that we can get to the root of any dental issues. We are conveniently located in McAllen, TX, serving patients from throughout the Rio Grande Valley. Contact us today to schedule your appointment.