Skip to Content
Latest Dental Technoligical Care in McAllen, TX
We Use the Latest Dental Technology to Maintain Oral Health
Your oral health correlates to your overall wellbeing, so healthy teeth, and gums are essential. Led by Dr. John Tan, the team at Xpress Dental is adept at improving or maintaining the oral health of our patients in McAllen, TX. We provide a wide range of dental services, ranging from general dentistry and preventive care to cosmetic dentistry and emergency dental services. To ensure we provide the best solutions possible, we utilize state-of-the-art technology. Using digital x-rays, intraoral cameras, and more, we can diagnose and treat any dental concerns you may have. You will not have to endure trips to various specialists and long delays. Xpress Dental will provide the care you need from the comfort of our McAllen office. Our convenient location allows us to serve patients from throughout the Rio Grande Valley. Call today to learn more about our technology.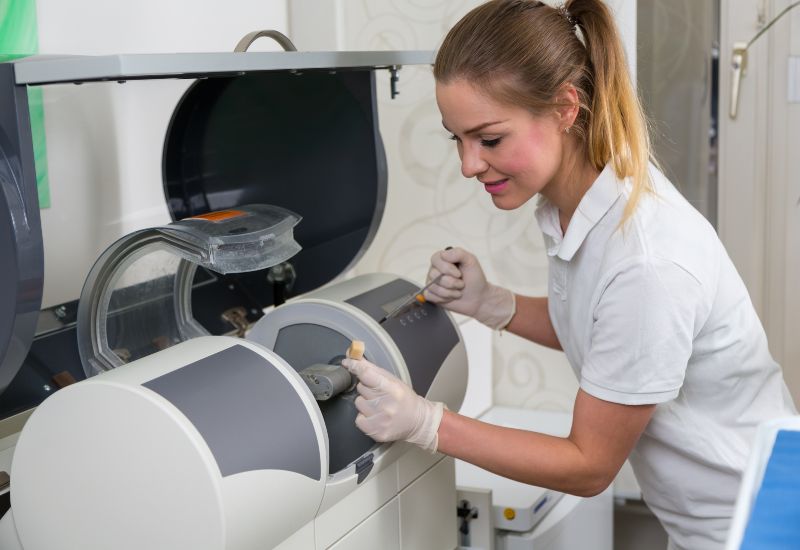 Our Team Utilizes a Wide Range of Technological Tools
Technology is rapidly evolving in nearly every industry. The field of dentistry is no different. Long gone are the days when dentists used hand tools, painful procedures, and the naked eye to diagnose and treat oral health concerns. Technological advances are modernizing dentistry and allowing the team at Xpress Dental to serve our patients better. We are committed to helping you maintain optimal oral health, and our technological tools enable us to do so. The technology you will find at our dental clinic in McAllen, TX includes:
CEREC
We use the CEREC crown method to create same-day dental crowns. In the past, receiving a dental crown involved a long process with multiple appointments. But that is no longer the case. The innovative CEREC method is a one-day process that protects and strengthens your teeth. We begin by cleaning your tooth and readying it for crown placement. Next, we will take an optical impression to use when creating your crown. Our CEREC machine will produce a 3D restoration that we can adjust as necessary. Finally, with a 3D model ready, the CEREC program transmits information to a separate milling machine to create the finished restoration. After the 20-minute creation process, we will bond your crown into place.
Digital X-Rays
Even x-ray technology is improving. We now utilize digital x-rays to learn more about your teeth and bone structure. Our digital x-ray technology uses a special computer sensor to send images directly to our computers, allowing us to reduce the amount of radiation exposure by almost 90%. As an added benefit, we can enhance the digital images to provide more accurate diagnoses. A digital x-ray is an improvement from the conventional film method because it promises a faster turnaround time and a better understanding of your condition.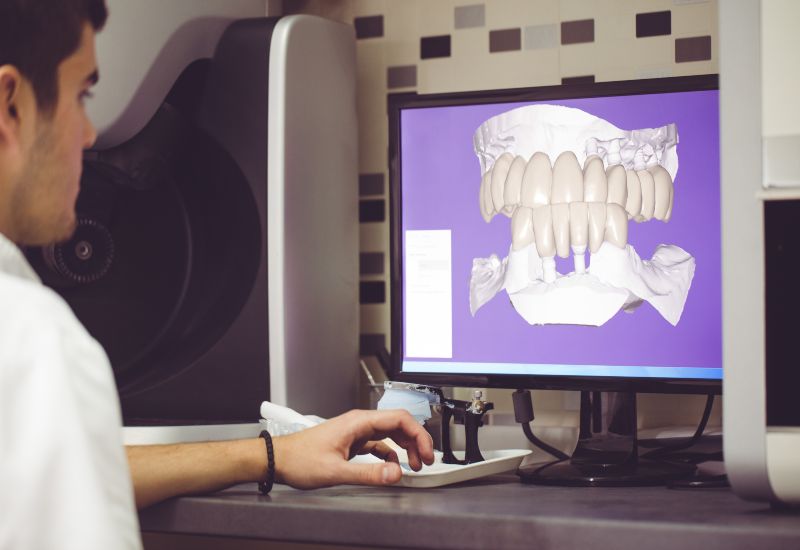 Intraoral Camera
Another imaging tool we use is the intraoral camera. We can produce clear, precise images of your teeth and gums with this technology. As opposed to difficult-to-understand imagery from x-rays, these pictures allow patients to see their mouth's state in real-time. Intraoral cameras are placed at the end of an instrument that is approximately the size of a pen. The camera transmits images to a computer screen or television monitor so that you can immediately see a fractured tooth, abscess, or cavity. Each tool also features a light.
3D Cone Beam CT
Among the newest instruments in the field of dental technology is a 3D cone beam CT scanner. This tool generates 3D images in seconds to help the experts at Xpress Dental diagnose and treat dental conditions. Previous oral CT scanners took longer to produce results and were much more invasive than the 3D cone-beam CT. This technology completes scans quickly, which means you will be exposed to less radiation and experience less pain. Additionally, this innovation produces clearer images than its predecessors, so we can evaluate your condition more accurately. A brief scan is all it will take to gain a complete understanding of your oral health and any reasons for concern.
Digital Impressions
Receiving crowns, bridges, or implants has never been easier. Xpress Dental can take digital impressions of your mouth to create precise dental solutions for you. Before the development of this technology, dentists made molds out of messy materials to fit patients for their dental restorations. Now, we can use a digital wand and advanced computer software to create accurate impressions for all types of dental work. Digital impressions are more comfortable and exact than traditional impressions, so you can rest assured your crown or implant is precise.
Contact Xpress Dental Today
Maintaining optimal oral health should be a priority. However, years of painful dental procedures have made receiving such care seem overwhelming. At Xpress Dental, those days are over. We utilize the latest dental technology to ensure your experience at our clinic is comfortable and efficient. We can fit you for crowns in a single day, use digital x-rays and intraoral cameras to diagnose any oral health issues, and take digital impressions of your mouth to create an accurate mold for implants. We are conveniently located in McAllen, TX, so we serve patients from throughout the Rio Grande Valley. Contact us today to schedule your appointment.